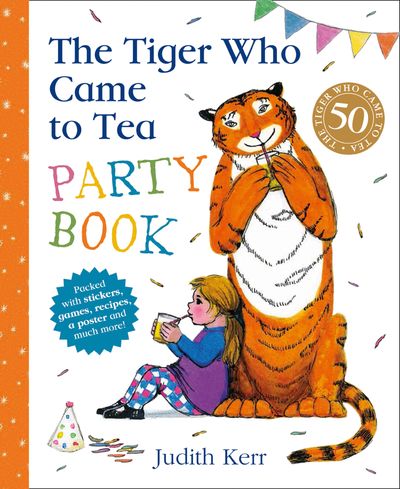 The Tiger Who Came to Tea Party Book
By Judith Kerr
Share in fifty years of magic… Celebrate your very own special moment with this incredible book containing all you need for your own party; based on the classic story of Sophie and her extraordinary teatime guest that was first published fifty years ago!
The Tiger has been coming to Tea for 50 glorious years! Now for the first time you can hold your own Tiger Tea Party with this very special book containing everything you need for the perfect party!
Containing planning tips, invitations, decorations, party games, recipes and much, much more, for the first time the Tiger is there to help you hold the perfect tea party. Based on the classic character and story from the one and only Judith Kerr.
First published in 1968 and never out of print, The Tiger Who Came to Tea has become a timeless classic enjoyed and beloved by generations of children.
The magic begins at teatime!
"'…gorgeous… has everything you need to host a fun-packed children's tea party." - Daily Express Summer Round-up
PRAISE FOR JUDITH KERR: -
"'It's no surprise Judith's work is still popular. It owes nothing to the vagaries of style or fashion. Her warmth and humanity are timeless." - Michael Foreman
"'Near perfection of form is embellished by clear, expressive illustrations. The pace is exactly right, the resolution totally satisfying." - Dorothy Butler, Babies Need Books.
"'A modern classic." - The Independent.
"'This book has enduring charm and young children will delight in the preposterous notion of a tiger creating mayhem in the house." - Junior Magazine
Praise for Mog the Forgetful Cat: -
"'Grandparents are likely to get as much fun out of seeing it again as the new generation of fans just learning to read!" - Choice Magazine
Praise for Goodbye Mog: -
"'Kerr's warmth, humour and honesty make this an engaging introduction to a difficult topic." - Financial Times
"'Believable, amusing and moving." - Nursery World
"'A supremely sensitive story." - The Times
Praise for One Night in the Zoo: -
"'Lovely… uses soothing, pastel illustrations and exotic animals to make basic counting seem unintimidating." - Daily Telegraph