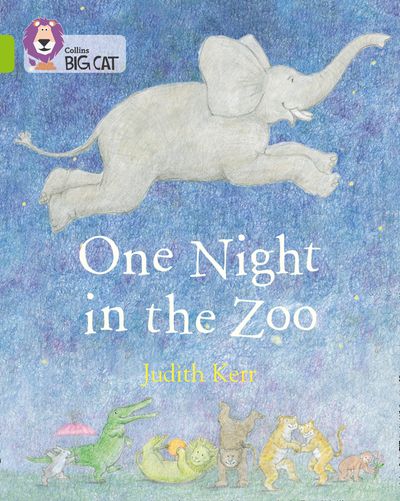 Collins Big Cat - One Night in the Zoo: Band 11/Lime
(Collins Big Cat)
By Judith Kerr, Illustrated by Judith Kerr, Prepared for publication by Collins Big Cat
Build your child's reading confidence at home with books at the right level
A wonderful rhyming book from Judith Kerr, the best-selling author of the Mog series and The Tiger Who Came to Tea
"One moonlit, magical night in the zoo
An elephant jumped in the air and flew.
But nobody knew."
It's only when all the visitors have gone home that the real fun starts in the Zoo! Enjoy counting the wide variety of animals in a fun and wonderfully imaginative way as you follow them through the night, and find out what mischief they get into.
A summary on pages 30 and 31, showing each animal in the book in number order, supports children in recapping what they have read.
Lime/Band 11 books have longer sentence structures and a greater use of literary language.
Ideas for reading at the back of the book provide practical support and stimulating activities